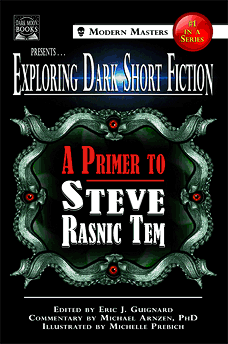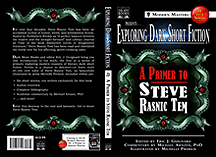 (Click above for full cover wrap)
For over four decades, Steve Rasnic Tem has been an acclaimed author of horror, weird, and sentimental fiction. Hailed by Publishers Weekly as "A perfect balance between the bizarre and the straight-forward" and Library Journal as "One of the most distinctive voices in imaginative literature," Steve Rasnic Tem has been read and cherished the world over for his affecting, genre-crossing tales.
Dark Moon Books and editor Eric J. Guignard bring you this introduction to his work, the first in a series of primers exploring modern masters of literary dark short fiction. Herein is a chance to discover—or learn more of—the rich voice of Steve Rasnic Tem, as beautifully illustrated by artist Michelle Prebich.
Included within these pages are:
Six short stories, one written exclusively for this book
Author interview
Complete bibliography
Academic commentary by Michael Arnzen, PhD (former humanities chair and professor of the year, Seton Hill University)
. . . and more!
Enter this doorway to the vast and fantastic: Get to know Steve Rasnic Tem.
or
---
Available in paperback
ISBN-13: 978-0-9988275-2-0
and e-book
ISBN-13: 978-0-9988275-3-7
First edition published July, 2017
---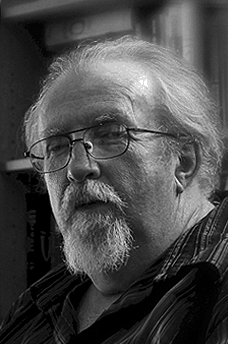 Author, Steve Rasnic Tem
Steve Rasnic Tem's collaborative novella with his late wife Melanie Tem, The Man on the Ceiling, won the World Fantasy, Bram Stoker, and International Horror Guild awards in 2001. He has also won the Bram Stoker, International Horror Guild, and British Fantasy Awards for his solo work. His novella In the Lovecraft Museum (PS Publishing, 2015) was a finalist for the Shirley Jackson Award. His novel UBO (Solaris, February 2017) is a dark science fictional tale about violence and its origins, featuring such historical viewpoint characters as Jack the Ripper, Stalin, and Heinrich Himmler. Steve's novel Blood Kin (Solaris, March 2014), won the 2014 Bram Stoker Award. His previous novels are Deadfall Hotel (Solaris, 2012), The Man on the Ceiling (Wizards of the Coast Discoveries, 2008, written with Melanie Tem), The Book of Days (Subterranean, 2002), Daughters (Grand Central, 2001, written with Melanie Tem), and Excavation (Avon, 1987). A handbook on writing, Yours to Tell: Dialogues on the Art & Practice of Fiction, also written with Melanie, appeared in April from Apex Books.

Steve has published over four hundred short stories. His first collection of stories, Ombres sur la Route, was published by the French publisher Denoël in 1994. His first English language collection, City Fishing (Silver Salamander, 2000) won the International Horror Guild Award. His other story collections are The Far Side of the Lake (Ash Tree, 2001), In Concert (Centipede, 2010—collaborations with Melanie Tem), Ugly Behavior (New Pulp, 2012), Onion Songs (Chomu, 2013), Celestial Inventories (ChiZine, 2013), Twember (NewCon, 2013), Here with the Shadows (Swan River Press, 2014), and last year's giant 72-story treasury, Out of the Dark: A Storybook of Horrors, from Centipede Press, featuring the best of his uncollected horror.

Steve was born in Lee County, Virginia, in the heart of Appalachia. He studied comparative literature and playwriting at Virginia Commonwealth, and received a Bachelor's in English Education from Virginia Polytechnic Institute (VPI). He moved to Colorado in the mid-'70s and received a Master's in Creative Writing from Colorado State University. Thereafter he joined the Northern Colorado Writer's Workshop coordinated by Ed Bryant. He met his wife Melanie in that workshop and moved to Denver. Melanie passed away in 2015. He currently lives in Centennial, Colorado and has four children and six grandchildren.